early fan art… 2002?
I'm sitting here getting some images together for a presentation I'm doing on the 18th at Greenwich University with one of my favourite illustrators working right now, David Roberts (how cool is that!), and the hugely talented Petr Horacek.
The coordinator asked me to send her some images showing my early work and influences, and I dug up this fan letter I sent to Satoshi Kitamura about seven years ago, which still makes me smile. Satoshi was awesome; after I'd pestered him, he and his wife Motoko (who edits the Maisy books in Japan) met up with me and he brought along two of his editors and we sat in the Barbican fountain cafe and talked shop. Later, he included an envelope I sent him in his Efuto exhibition at the Tokyo Post Office Museum. He's a huge fan (and close friend) of David McKee, which was why I was so excited to interview David awhile ago.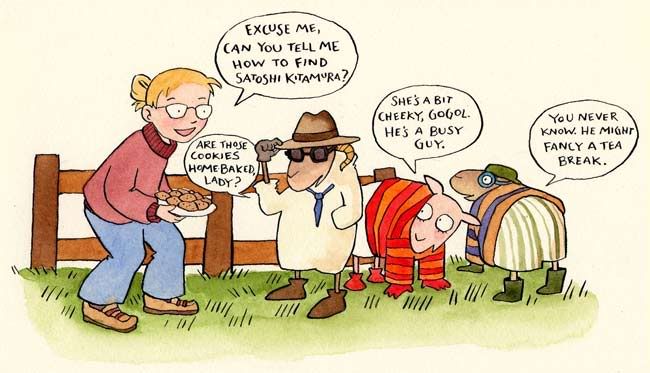 I haven't included the letter itself because it makes me blush a little too much with its fan-girl earnestness, but here are the pictures. I think I was entertaining the rather infantile notion that if I visited his studio, I'd get to meet all his characters. (Don't tell me you don't wish that sometimes!)


Cool link of the day: 20 of the world's most beautiful libraries