a tree i like a lot
Here's a pen sketch I did this morning of one of my favourite trees in Greenwich Park. Awhile back I read a book, The Time Wreccas by Val Tyler, about these creatures who live in an old tree in Greenwich Park, very much like this one, and who are responsible for the world's timekeeping. It was fun reading a book about such a familiar setting but I was kind of mad I hadn't managed to do it first! (If you're looking for something to draw today, try drawing your favourite tree.)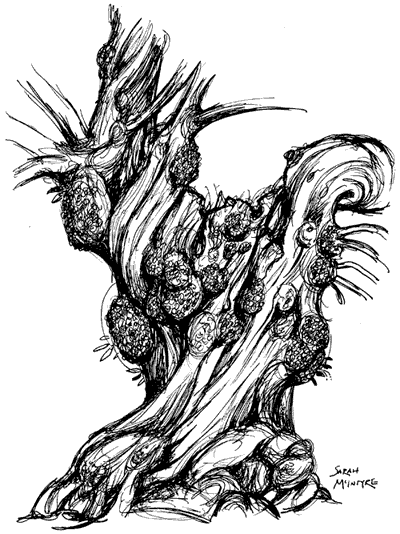 Congratulations to fellow DFC collaborator Nick Abadzis for winning an Eisner Award for his graphic novel about Laika, the Soviet space dog. Hooray, Nick!
Jenni Scott has posted the schedule for the Caption festival weekend after next in Oxford, so click over to see the line-up. My friend Ellen Lindner (ellenlindner) will have her work in a group show linked to Caption at the Oxford Jam Factory, I'm looking forward to stopping by there to see it.
And I can't make it this Sunday, but this Publish and Be Damned Fair near Old Street in London looks like it could be really interesting.
Just now got an e-mail from Paul Gravett saying that the deadline for the Lingua Comica competition has been stretched to Aug 3rd, so you still have time to get in there if you're a Brit who wants to make comics in Kyoto.
Edit: At the risk of my blog being just everything I've nicked from Candy Gourlay's blog, here's another great little film she just made. (Here's the earlier one.) She writes:
My neighbour, Hugo (age 9), often sits at the other end of my office, writing. He is capable of producing one of his graphic novels in the time it takes me to compose a sentence. It's wonderful to meet young kids with a passion for writing and for storytelling. I just had to get Hugo on film explaining the craft of writing.

(Here's the YouTube link if you can't see it above.)